Our October Photo Contest Winners!
Our two photo contest winners for October are Maureen Walker and Lisa Funk. Congratulations to both ladies for their stunning photos, we hope they enjoy their $500 Amex gift cards. All our winning submissions will appear in a 2014 calendar.
We just have one more drawing to go, so don't miss out on your last chance to win a $500 gift card and have your photo featured in our calendar. Please submit your photos in jpeg format to: susan@africanportfolio.com. Re-submissions are welcome (except for previous winners), find out a little more about our Photo Competition by clicking here.
Lilac-breasted roller — Maureen Walker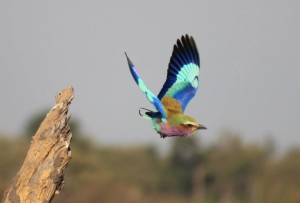 The photo was taken in the Savuti area, Botswana. Maureen was on a three week trip with African Portfolio in May 2013. The shot was taken while on a game drive from one of the 3 camps they stayed at in Botswana. In Maureen's words:
"I am not a birder or photographer, this shot was just lucky. I have a good point and shoot Canon camera and just snapped a few shots of the Lilac-Breasted Roller as it flew past."

This was Maureen and her husband's second trip to Botswana, and 4th safari. "There were 12 of us in our group, my husband worked with Susan to put the trip together. We started in Victoria Falls and ended in Cape Town. You think after three safaris you won't see anything new, but we saw things we had never seen before. Wild dogs interacting with zebra and scaring away baboons, we saw a lion steal a leopard kill, and elephants swimming — it was amazing.

One of our group was a bit nervous about coming to Africa, it was his first time. The airline lost his luggage, so he had one outfit for the entire trip. But you know he never complained once, he had a perpetual smile on his face and would announce "it just can't get better than this" .. but of course it did, every day!"
Lisa was on safari with African Portfolio in August 2013. In Lisa's own words —
"We were in Botswana Okavango Delta, staying at Xakanaxa Camp and the photo was taken on one of our game drives from camp. We spend 4 nights in the Okavango Delta, before traveling on to Cape Town. It was a 2 week trip, we started at the Victoria Falls and ended in Cape Town. We wished we had spent more time on safari, or seen another camp, we had no idea how diverse our animal sightings would be. And it's such a relaxing holiday, you don't have to do anything, you are so well taken care of!
Yvette helped plan Lisa's trip, she had been recommended by friends who had taken 2 safaris with African Portfolio. Lisa would love to go back and visit Kruger and return to Stellenbosch.
Congratulations again to both our winners, and thank you for taking the time to share your memories with us.
Leave A Reply