Gorilla Safaris

Tracking mountain gorillas is one of the most exciting safaris we offer. With just under 900 mountain gorillas left in the wild, it is a real thrill to meet them face to face. Diane and Anouk have had the opportunity to track gorillas in Uganda and Rwanda respectively, and they both agree it was an utterly unforgettable experience and a real highlight of their lives. Yvette will be tracking in November 2016.
Where Can You Track Mountain Gorillas?
We offer gorilla tracking in in either Uganda or Rwanda. There are options in the DRC, and we have booked some clients there, but that is for the more intrepid! In Rwanda, limited permits are issued every day and there are 7 habituated gorilla families all living in the Parc National des Volcans (PNV). In Uganda, there are two different gorilla parks, Bwindi Impenetrable Park and Mgahinga Gorilla National Park. The permits issued are also limited in number, because of this, you need to book your safari at least 6 months in advance. The cost of a permit is $500 – $750 and most of it goes towards further conservation efforts.
Rwanda has the reputation of offering slightly less strenuous hikes to some of the gorilla groups. Even so, the hiking is not easy and it's worth getting fit before you go. The PNV is also just a 3 hour drive from the capital Kigali, and so more convenient as an add-on to a safari in northern Tanzania, or even Kenya. Uganda's gorilla parks are a long day (or overnight) drive from the capital Kampala and you tend to have to hike longer to find the gorilla groups. However, Uganda does offer traditional safaris in other parks, as well as rafting on the Nile and chimpanzee tracking. And it's becoming more popular to take a small flight or helicopter from Entebbe to cut down on travel time to the Parks.
If gorilla tracking is the entire focus of your trip to East Africa, then it is very easy to combine tracking in Rwanda and Uganda. The driving distance between the parks in both countries is very doable. In fact, we highly recommend that you track gorillas twice if you can. A second time allows you to truly enjoy the experience without concerning yourself with cameras and videos.
What's the Hike Like?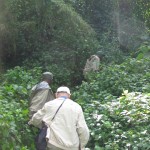 The mountain gorillas that are left, have survived by living on incredibly steep volcanic slopes, in nasty, dense, stinging vegetation. It's a lovely bamboo/nettle/celery salad bowl for them, but very painful for those of us without thick fur.
Some gorilla families are just a couple of hours away from the parking area, others can be a stiff 4 – 6 hour hike in. Trackers scout the nesting areas of each gorilla family before the trek starts, so they have a good idea where you need to hike to. This means you will certainly find the gorillas, but the time it takes to get to them always varies.
Porters and guides are on hand to show you the path, hack through the vegetation and carry your stuff if need be. Walking sticks are provided as well. Because the terrain is steep, muddy and difficult, the pace is always slow and steady. You do have to be fit and your knees should be in reasonable shape, especially for the hike down. Those with asthma should bring inhalers because it's humid as well, so the combination can trigger your symptoms.
What to Wear
When you get to the gorilla group you will have to give up your walking sticks. This means you will rely on your hands to climb up and down the slopes and keep yourself from slipping. Thin, sport gloves offer excellent protection against all the stinging and burning nettles that surround you. Make sure you can operate your cameras with them on.
Wear long pants made of slightly thick material to stop the nettles from burning your skin. You want to wear thick, long socks so you can tuck your pants into them. In some areas there are fire ants that like to climb up your legs. You don't want to be stomping around when you are surrounded by gorillas.
A waterproof jacket is necessary to keep warm and dry. It rains a lot in these parts and the vegetation is often wet with dew in the morning. Wear long sleeve layers since it is chilly at higher elevations and with the thick foliage, the sun rarely shines through.
Walking shoes are of course necessary,  make sure they are comfortable and worn in so you don't suffer from blisters. The lodges usually offer to clean and dry your shoes after your trek.
What To Expect When You Find the Gorillas
You are allowed to spend an hour with the gorillas. Follow your guide and trackers' instructions, they will remind you to stay at least 5 meters away from the gorillas. If they come closer to you, you will be told to stand still, or crouch down. The guides know these families and each individual, so you don't have to be scared. No one has been harmed by a habituated gorilla. It is very likely that they will get close enough that you can smell them, it's a thrill to say the least.
Sometimes the gorillas will be make a lot of noise, small spats can break out, while others may be playing, eating or just grooming. You will likely be moving around a little to keep them in view since they don't always stay in one spot. Often the younger gorillas will be playing all around you and hanging off the bamboo above you. Watch out, bamboo is not strong and gorillas seem to enjoy riding the stalks down, so it's a little unpredictable.
Try and spend some time just watching and not always filming or taking photos. It's tempting, but you do miss out on just being there, and your precious time will be over before you know it.
*Tourist Visas (for US passport holders) and Required Immunizations
As of July 2016 you need to have a Yellow Fever vaccine (or waiver from your doctor) in order to enter both Rwanda and Uganda.
Tourist visas must be applied for online prior to arrival in Uganda.
Tourist visas may be applied for online prior to arriving in Rwanda but can also still be obtained on arrival at Kigali International Airport.
*Please note entry regulations can and do change frequently so please contact us for the latest information.
Ready to Book Your Gorilla Adventure?
We can help you organize your gorilla safari in both Uganda and Rwanda. You need to book a gorilla safari at least six months in advance because permits are limited and they sell out  quickly.  Contact us for more information.
Leave A Reply