Bringing the Kids on Safari

There's nothing more adventurous, fun, and educational than a family safari in Africa. A family safari offers a unique opportunity to watch your children connect with different cultures and find that common bond. Seeing rare and beautiful animals in their own habitat is not just exciting but also helps bring home the importance of protecting our planet. Trust us, even your teen will thank you for this holiday of a lifetime. But before you go ahead and book your trip, keep in mind that variety and flexibility are the key ingredients for a successful family safari.
Tips for Bringing Children on Safari
10 and up is the ideal age for children on safari
Limit your game drives to two hours at a time
Have your own private vehicle for maximum flexibility
Minimize travel time between lodges, especially if you are planning game drives for those days as well
Get your children their own cameras and set of binoculars
Make sure the camp or lodge has a pool to cool off in during the midday heat
Try out malaria pills before you leave home (or opt for a malaria-free safari)
Include opportunities to play with local kids or visit a school
Schedule activities outside of the safari vehicle, like supervised nature walks
Give the children a bird or animal checklist to mark off what they see (you can also award points)
Book-end your safari with a beach holiday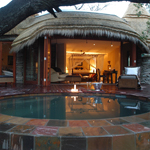 There are many camps and lodges dotted around East and Southern Africa that cater to families. They may include baby-sitting services, specially designed nature walks, two-roomed tents or bungalows, and child-friendly menus. A really great option is to rent a whole property for just your family. Tintswalo Manor House in Manyeleti, (South Africa) is one of our favorites. It comes with its own pool, vehicle, guide, butler and chef.
Read our family safari planning tips here, and contact us if you would like more information.
Leave A Reply