Should I go on safari in East or southern Africa?
Our clients often ask us whether to go on safari in East or southern Africa, particularly if they have a ten-day window and want to visit more than one place.
By East Africa, we mean Kenya, Tanzania, Uganda and Rwanda (although the last two countries are technically in Central Africa) and southern Africa refers to South Africa, Botswana, Namibia, Mozambique, Zambia and Zimbabwe – and Malawi, which is poised to become the next big safari destination.
When it comes to the Big 5 (elephant, lion, leopard, rhino and buffalo) both areas certainly deliver – and to be honest, you can't go wrong with either. They're just different.
The landscape
When most people picture a safari, they're usually imagining the vast plains of Kenya or Tanzania, as immortalised by writers like Ernest Hemingway and in movies such as Out of Africa. A major draw of East Africa is the annual wildebeest migration in the Serengeti, described as one of the greatest wildlife shows on earth. That's not all, though – gorilla or chimpanzee tracking in the rainforests of Rwanda or Uganda is a truly magical experience.
Southern Africa offers a greater diversity of landscapes. While Kruger National Park in South Africa offers classic bushveld scenery, there's also the wetlands of St Lucia, where you'll find hippos, crocodiles and flamingos; in Botswana, there's the vibrant diversity of the Okavango Delta; the semi-arid Kalahari Desert extends from Botswana into Namibia and South Africa and is teeming with wildlife. Namibia has the desolate but beautiful Skeleton Coast as well as the Namib Desert, and in between Zambia and Zimbabwe, there's the awe-inspiring and majestic Victoria Falls, one of the seven natural wonders of the world.
The time of year
Southern Africa has more distinctive seasons as it's further from the equator, and while the best time to see wildlife is in the dry winter season (June-October), come nightfall it can drop below freezing – you'll need a pack a warm coat for the early morning game drives in particular. If you want to ensure blue skies and sunshine in Cape Town, you're better off visiting during the summer, from November to March.
In contrast, East Africa has two dry seasons (January-March, June-October) and the seasons are milder, making it more of a year-round destination. That being said, there are two rainy seasons – the 'short rains' from November-December and the 'long rains', from April-May; during the latter period, many camps in high rainfall areas close and beach destinations like Zanzibar and the Kenyan coast suffer from high humidity and heavy afternoon showers.
Type of safari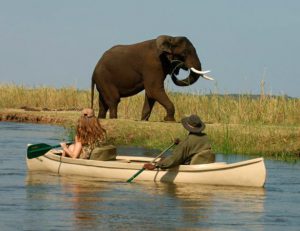 In general, with an East Africa safari you'll be looked after by your tour operator – they'll assign you a guide/driver who will accompany you to the various lodges on your itinerary, and you'll travel by road in your own private vehicle (although charter flights may be included when the driving distances are longer than 4-5 hours). In southern Africa, you'll be looked after by staff at each lodge and share a vehicle during game drives with other guests, and you'll usually fly between camps.
In East Africa, you'll likely be visiting national parks, which are large and unfenced, but you're not allowed to go for night drives or off-road, and you'll come across other vehicles quite often. In South Africa, your lodge will be on a private concession, where there will be fewer other tourists and there's more flexibility – but it will be smaller; you won't see vast herds of game and the endless horizons of East Africa.
Southern Africa also offers a wider range of activities, such as boat or horse-back safaris, and walking safaris are popular in Zimbabwe and Zambia.
Type of vehicle
Game drive vehicles differ too – in East Africa they tend to be enclosed, with large windows and pop-up roofs, generally because you're driving longer distances. In southern Africa, they're open to the elements, allowing you to get really up close and personal with the game (who are also more habituated to humans).
Cultural Interactions
There's more of an opportunity for cultural interactions with local tribes in East Africa, for example, the Maasai and Samburu, as they are more involved in tourism. In southern Africa it's difficult, although not impossible, to encounter indigenous tribes like the Bushmen and Himba in their natural surroundings.
Health concerns
Another major consideration is malaria, especially if you're pregnant or travelling with young children. If you can't take medication, there are a few malaria free safari areas in South Africa only: The Eastern Cape, Madikwe, Pilanesberg, and the Waterberg.
Otherwise the only requirement is that anyone entering South Africa, Seychelles, Kenya or Tanzania from or via a yellow fever infected (endemic) area must be in possession of a valid International Certificate of Vaccination against yellow fever. Yellow Fever Endemic Zones include, United Republic of Tanzania, Angola, Uganda, Kenya and Rwanda.
Leave A Reply