Idyllic Mnemba Island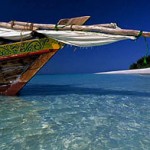 Diane had the joy of spending five days on Mnemba island recently. It's a miracle she managed to drag herself away to get back to work — it truly is a slice of paradise. If you've ever dreamed of a private island with white beaches, a warm clear blue ocean, luxury chalets, and spectacular snorkeling right off the beach, Mnemba is the place for you. As Diane put it – "I would have no hesitation in encouraging anyone who had the budget, to include Mnemba in an East Africa itinerary or in fact to make it a single purpose destination". And that's from our resident self-declared "non-beach" person.
Where is Mnemba Island?
The private island of Mnemba, lies 2.8 miles (4.5 kms) off of the north–eastern tip of Zanzibar in the Indian Ocean. The island is about 1 mile in circumference and surrounded by an atoll of coral reefs. Most visitors will fly into Zanzibar and take an hour drive to the northern coast. From there it's a 20 minute boat ride to Mnemba. You arrive directly on the beach, no jetties here, so be prepared to get your feet wet!
Where to Stay on Mnemba
The only place to stay on the island is at the Mnemba Island Lodge in one of ten bandas (individual, traditionally built chalets). Each banda is located directly on the beach, with private beach sala and traditional Zanzibari sunbeds. The bandas are luxuriously simple, with an open air concept that allows for lovely cooling breezes. Each banda comes with its own butler offering personable and professional service. You can spend your entire stay wearing nothing but a swimsuit, no need to dress in anything else for breakfast, lunch or dinner. All meals are served on the beach (weather permitting), it is sophisticated but totally casual. There's a main lounge and bar that has a selection of board games, a good library and even a TV. The rates are all-inclusive and include all activities.
What's it Like on Mnemba?
As Diane put it, "the sand was as fine and white as I have ever seen, yet wasn't hot. I could walk around the entire island in 20 minutes". There's lots of beautiful nature to explore both on land and in the water. Green turtles come to lay their eggs on the island, so you can watch them swim in the ocean and see their babies hatch on the beach. You can opt to go deep sea fishing or diving at any time. There are certified diving instructors on the island. Snorkeling is fabulous here, there are more than 300 species of fish to marvel at. Birders bring your binoculars, there's plenty to see here. Nights are spent looking at the stars, enjoying a delicious dinner of fresh fish with a cool glass of wine, and listening to the ocean waves. Mnemba island is malaria-free, and there are no snakes or scorpions on the island. Shoes are optional.
When is the Best Time to Visit Mnemba?
The best time to visit Mnemba is from June to March, to avoid the rains. The rains generally fall in April/May and in November. But it is nice and warm year round, with average temperatures around 26°C/79°F.
Is Mnemba a Family Destination?
We would not hesitate to recommend Mnemba to anyone, but if you have younger children, they may get bored. Other than relaxing, swimming, snorkeling and diving, there is not much else to do. It is the perfect destination for couples or a group of friends.
I want to Go!
If Mnemba sounds like your ideal vacation spot, please contact us, we'll get you there. We may even join you …
Leave A Reply