Baby Boom in the Serengeti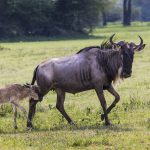 Herdtracker (our "go-to app" this time of year) reports that the larger herds of wildebeest and zebra are passing through central Serengeti towards the Ndutu Plains in the southern Serengeti. We will soon hear reports of a first baby wildebeest sighting, this is calving season ladies and gents! Most of the wildebeest calves are born in just a three to six week period, generally starting at the beginning of February. You can only imagine the mass rutting and strutting by wildebeest males that takes place in late May, to get this timing down.
The "mass" birthing event on the open plains is an interesting survival strategy. The idea is to simply overwhelm the predators with choice. A synchronized birthing by a million wildebeest out in the vast open plains, will certainly do that. Naturally, this strategy will not work for all baby wildebeest as this is bonanza time for those who like to spot kills (although please note it is fascinating but gruesome to see). Most births will take place in the early morning, giving the little calves enough daylight to figure out what their legs are for and to get steady before nightfall when the hyenas, jackals and other predators begin their day.
Baby zebras are also a common sight this time of year, they are called foals and are usually born solo after a year long pregnancy. Their mothers will keep everyone else at bay until the 2-3 day old zebra is able to recognize her by sight, sound and smell. Babies are born with a unique stripe pattern, and start off with brown rather than black stripes that gradually darken as they mature. This is a handy fact to impress your guide with when you go.
The birthing spectacle is truly a highlight for anyone visiting Tanzania this time of year and we encourage our clients to escape the cold winter weather and head to the sunshine and the cute faces of 400,000 wildebeest calves and zebra foals. The southern Serengeti does not get a huge amount of action with regards to wildlife during other parts of the year, so there are a limited choice of permanent camps in this area. Some of our favorite lodges that are in the prime location include: Lake Masek Tented Camp, Pioneer Camp, Kusini Camp, and of course the mobile camps like andBeyond Serengeti under Canvas make sure they are in a great position too.
Have a look at our sample itineraries which will get you a front row seat: Tanganyika Wilderness and Great Rift Valley.
More about the Great Migration …
Leave A Reply